Production Services
We have a friendly and professional staff and top of the line equipment to meet the requirments of any event.
Consoles:
Digico SD9
Avid SC48
Midas M32
Midas M32 R
Yamaha M7
Yamaha TF3
QSC Touchmix
Loudspeakers:
Meyer Melodie
Meyer Mina
Meyer UPQs
Meyer CQs
Meyer JMs
Meyer UPJs
Meyer UPMs
Meyer MJF-210s
Meyer UM-1Ps
Meyer 700s
Meyer 600s
Meyer 500s
Meyer USWs
Electrovoice QRXs
Electrovoice ZX3s
Electrovoice ZXA1s
Electrovoice TM1122FMs
QSC KLA 12s
QSC KW181s
QSC K10s
Turbosound iQ15s
Turbosound iQ18s
JBL Eons
Wireless:
Shure UHF wireless
Shure ULXD wireless
Microphones:
Shure
Neumann
DPA
Sennheiser
AKG
Audio-Technica
Beyer
Countryman
Crown
Superlux
DIs:
Radial
Countryman
Whirlwind
ProCo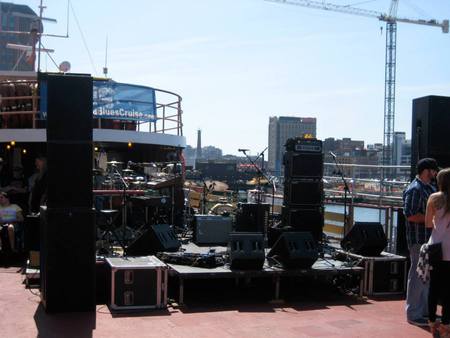 2 Meyer CQ-1 Loudspeakers on top of a Meyer 700-HP Subwoofer.
Lovingly nicknamed "Tower of Power. "A powerful three way system with extended low end – perfect for rock bands!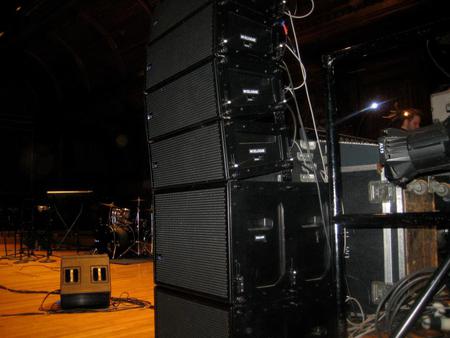 Meyer M'elodie Line Array on top of Meyer 500-HP Subwoofers.
These can be ground stacked or flown, and because of their matching width these speakers fit the subs perfectly creating a sleek visual line with limited sightline issues.
Meyer M'elodie Line Array on top of Meyer 600-HP Subwoofers.
Same great system with more low end! Utilizes a transition frame to safely rig and angle the top boxes appropriately when groundstacking.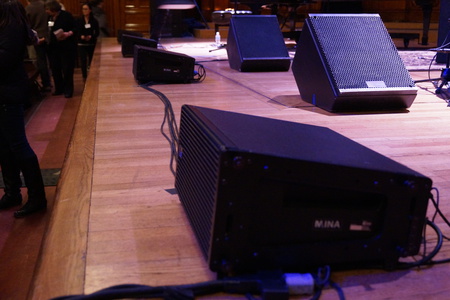 Meyer Mina
These small Meyer boxes provide excellent front fill coverage when placed on the lip of the stage. They can also be stacked in a line array for smaller, more intimate venues.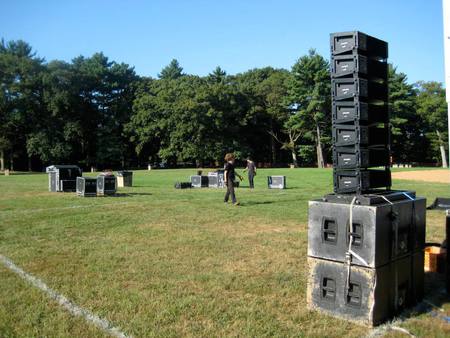 Meyer M'elodie Line Array on top of Meyer 700-HP Subs.
The dual 18-inch cone drivers in these subs create the perfect system for performances requiring heavy low end. When paired with M'elodie you have a system capable of extended frequency range.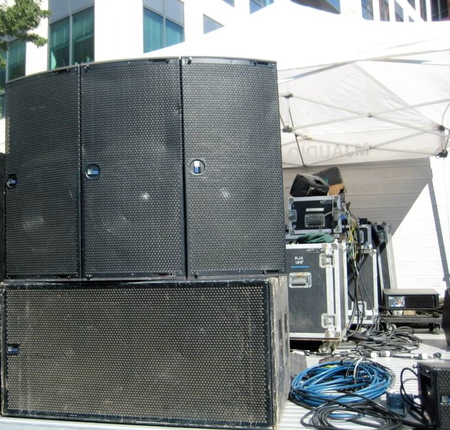 Meyer JM's stacked on top of a horizontal 700 Subwoofer.
This system is perfect for applications that involve a level but wide audience area. These loudspeakers can also be flown with additional rigging hardware, locking together in three-box cluster that provides quite the punch!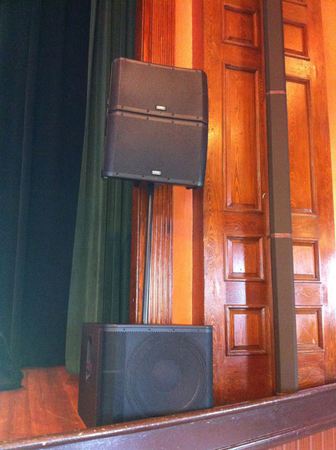 QSC KLA12s Loudspeakers on QSC KW 181 Subwoofer.
Often used for dance, this system allows for a wide range of
power
and versatility. It's pole mounting system makes it easy to set up as well as visually stunning. DJs often request this small line array and powerful sub system.